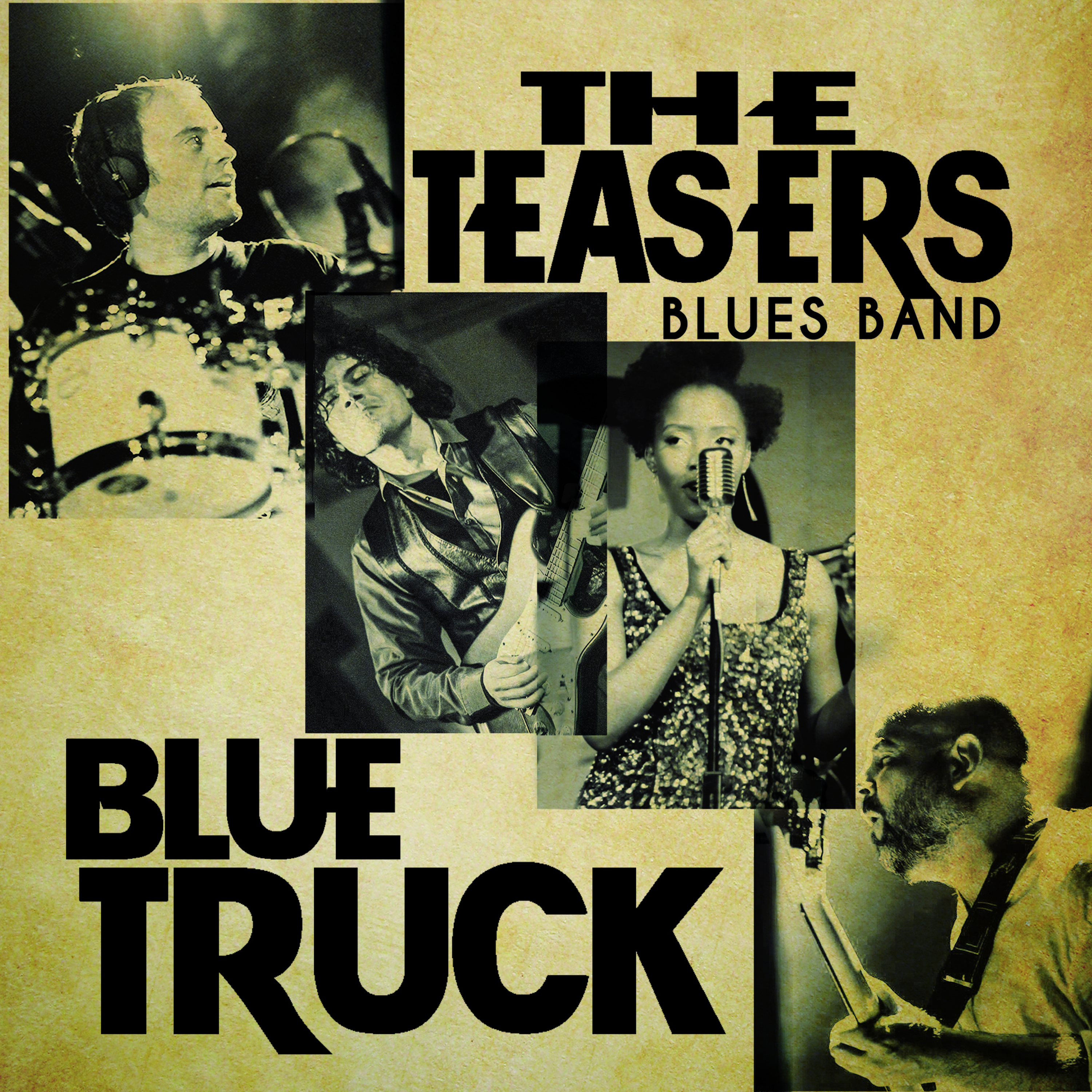 La combinación de temas clásicos con los de composición propìa hacen de este proyecto una propuesta sumamente interesante, que aúna tradición y modernidad. Por mi estrecha vinculación con este instrumento, he de resaltar el tratamiento y el sonido de las guitarras. Considero que estamos ante un trabajo altamente recomendable.
AMADEU CASAS
---------------------------------------------
​
The Teasers are a Blues band formed in 2012 in Barcelona, initially as a trio but with multiple collaborations over the years and new incorporations for their debut album.
​
Before composing this LP, "Blue Truck", The Teasers have participated twice in the International Blues Festival of Cerdanyola in the 2013 and 2015 editions with great receptions from the public and the media. They also have played regularly in some of the best Blues Lounges such as the Milano Cocktail Bar in Barcelona and La Traviesa in Tarragona.
​
The group is made up of musicians of vast experience and professional trajectory led by Jose Azul, the guitarist, vocalist, producer and composer, who has worked in the bands Acvstica and Erasoul, and has participated in major musical theatre productions such as "Grease" and "Hair". He is accompanied by David Gomez on drums, former accompaniment of Gary Lewis, Peter King and Luis Salinas, among others. On the bass guitar is Matias Miguez, who also accompanies Cece Gianotti, Amadeu Casas and Tom Principato.
​
"Blue Truck" has various collaborations with other great artists, such as Tina Masawi from Zimbabwe, awarded as the best singer in musical theatre in 2013. J.J Caro, on keyboards, is also the keyboard player for Manu Guix and musical director of various musical theatre productions such as Grease, Que, Fame and so on. Raul Reverter plays alto sax and has done tours accompanying musicians such as Pat Metheny, Deborah Carter o Jerry Gonzalez. Joan Pau Cumellas, renowned internationally for his ability with the harmonica recorded albums with Manolo Garcia and Lotti Lewis and has participated in all the festivals of Jazz and of Blues in Spain and many other throughout Europe.
​
This LP is comprised of 10 songs, 7 that are original and 3 versions. One of these versions, "Every Day I Have the Blues" is a tribute to the later BB King, which was an original composition of Pinetop Sparks and was one of the fundamental pieces at his concerts. In this song we respect the same original arrangement as B.B King in the 50´s, but inevitably adapted to our tempo and style.
​
With respect to the repertoire and sound in general, it is a mixture of innumerable influences, but basically it can be defined as electronic contemporary Blues.
​
Hello! This is a preview form our brand new album "Blue Truck", now available on our web page, www.theteasersblues.com and all the online stores. Please feel free to share, like and comment. Enjoy!
------------------------------------------------------------------------
These influences come from the rural Blues of Robert Johnson, passing through the evolution of Elmore James and Muddy Waters up until our contemporary Blues artists such as Jimmy Hendrix, Robert Cray, Steve Ray Vaughan, Albert Collins or Buddy Guy.
​
The original lyrics, written by Jose Azul, are a metaphorical autobiography of different stories that resonate well with the sound that Blues music offers. Basically themes of falling out of love or the seeming impossibility of it, such as in "Hurt You" and "He Believes" show through. Sometimes a more positive energy comes out in the form of "Blue Truck" and "Never Comes Noon".
​
In the long corridors of "Blue Truck", diverse sounds can be found. The original trio formation recorded completely live in the studio "Hear My Train a Comin" by Jimi Hendrix, "You Said" by The Teasers Blues Band, "The Sky Is Crying" by Elmore James, as well as the songs in full formation such as "Everyday I Have the Blues" by B.B King, "Troubles With Women" and "Never Comes Noon" both by the Teasers Blues Band. In these last three songs the formation is complete with the wind section, keyboards, chorus and percussion. There is a also a small homage paid to the rural blues in "Before You Get Closer" by the Teasers Blues Band, in which the voice is accompanied only by an acoustic guitar and Joan Pau Cumellas and his harmonica.
​
This album was recorded in one of the best studios in Barcelona, "So I Art", a space of multiple rooms allowing simultaneous recording of most of the tracks with the best quality possible as well as the best sound technicians in the city making all of this possible, Ivan Hanon.
​
As for the mix and mastering, the artist is Alex Martinez from Brazil, who is currently a sound engineer for Universal Music.
​
We hope that you enjoy our work as much as we have enjoyed creating it.
​
The Teasers, Barcelona, February 2017.
​
-----------------------------------------------
The Teasers es una banda de Blues formada en el 2012 en Barcelona, inicialmente en formato trío pero con múltiples colaboraciones a lo largo de este tiempo y nuevas incorporaciones para su álbum debut.
​
Antes de componer este LP, "Blue truck", The teasers han participado dos veces en el festival de Blues de Cerdanyola, ediciones del 2013 y 2015 con gran aceptación del público y medios. Y tocado regularmente en algunas de las mejores salas del estilo como "Milano Coctail Bar", Barcelona, o "La traviesa", Tarragona.
​
El grupo está compuesto por músicos de gran experiencia y trayectoria profesional. Liderado por José Azul, guitarrista, vocalista, productor y compositor, ex Acvstica, Erasoul, musicales Grease y Hair… Acompañado por David Gómez a la batería, ex acompañante de Gary Willis, Peter King o Luís Salinas entre otros. Y Matías Míguez, acompañante de Cece Gianotti, Amadeu Casas o Tom Principato…
​
Blue truck, tiene varias colaboraciones de otros grandes artistas, como Tina Masawi, Zimbawe, premiada como la mejor cantante de musicales en el 2013 Suráfrica. JJ Caro, en los teclados, teclista de Manu Guix, y director musical de varios musicales como Grease, Que, Fama, etc… Raúl Reverter, saxo alto, ha realizado giras acompañando músicos como Pat Metheny, Deborah Carter o Jerry González. Joan Pau Cumellas, reconocido internacionalmente por su habilidad con la armónica, ha grabado discos con Manolo García o Lotti Lewis y participado en todos los festivales de Jazz y Blues de España y muchos otros de Europa.
​
Este Lp, se compone de 10 canciones, 7 de ellas originales y 3 versiones. Una de estas versiones "Every day I have the blues" es un tributo a BB King, que pese a ser una composición original de Pinetop Sparks fué una de sus piezas fundamentales en sus conciertos. En ella respetamos el arreglo original que el mismo BB King realizaba en los años 50 pero inevitablemente adaptado a nuestro tiempo y nuestro estilo.
Respecto al repertorio propio y el sonido general, es una mezcla de innumerables influencias. Pero básicamente se podría definir como Blues eléctrico contemporáneo.
Estas influencias van desde el Blues rural de Robert Johnson, pasando por la evolución de Elmore James o Muddy Waters hasta nuestros contemporáneos como Jimi Hendrix, Robert Cray, Steve Ray Vaughn, Albert Collins o Buddy Guy.
​
Las letras originales, escritas por José Azul, son una metáfora auto biográfica de diferentes historias que encajan con el paisaje sonoro que el Blues ofrece. Básicamente desamor o amor imposible, como en "Hurt you" o "He believes". A veces estados de felicidad y energía positiva como en "Blue truck" o "Never comes noon".
​
A lo largo del recorrido de Blue truck puedes encontrar diversos escenarios sonoros. Desde la original formación a trío, grabada completamente en directo en el estudio y en estos temas: "Hear my train a comin" Jimi Hendrix, "You Said" The Teasers Blues Band, o "The sky is crying" Elmore James. O grandes formaciones como en "Every day I have the blues" BB King, "Troubles with women" The Teasers o "Never comes noon" The Teasers. En estos temas la formación se completa con sección de vientos, teclados, coros, y percusión. También hay un pequeño homenaje al Blues rural en "Before you get closer" The Teasers, en el que la voz es acompañada tan solo por una guitarra acústica y la armónica de Joan Pau Cumellas.
​
Este trabajo fue grabado en uno de los mejores estudios de Barcelona, So i art. Un espacio multisala que permite grabar simultáneamente la mayoría de pistas que hay en el CD y con la mejor calidad de grabación posible. Asimismo con uno de los mejores técnicos de la ciudad, Iván Hanon.
​
En cuanto a la mezcla y el mastering, el artista es Alex Martínez, Brasil. Ingeniero de sonido de Universal Music.
​
Deseamos que disfrutes de nuestro trabajo como nosotros disfrutamos haciéndolo.
​
The Teasers, Barcelona, febrero del 2017.
Fenomenal BEFORE YOU GET CLOSER, donde podemos apreciar la voz de TINA en su máximo esplendor ! . Empezamos por la pista que cierra el excelente album de THE TEASERS BLUES BAND, sin duda uno de los mejores que han llegado a nuestras manos últimamente, y producido en nuestro País ! Destacamos los excelentes arreglos de los clásicos de José Azul, y sus grandes composiciones propias, como bien dice el maestro AMADEU CASAS, aunándo clasicismo e innovación de forma espectacular . Un trabajo que traspúa básicamente R&B , con toques de Boogie, ( Every Day I have The Blues ... ) y Blues , claro ! en resumen : Ir a por El Camión Azul ! que llega cargado de buena música !
Mandonguilla Blues