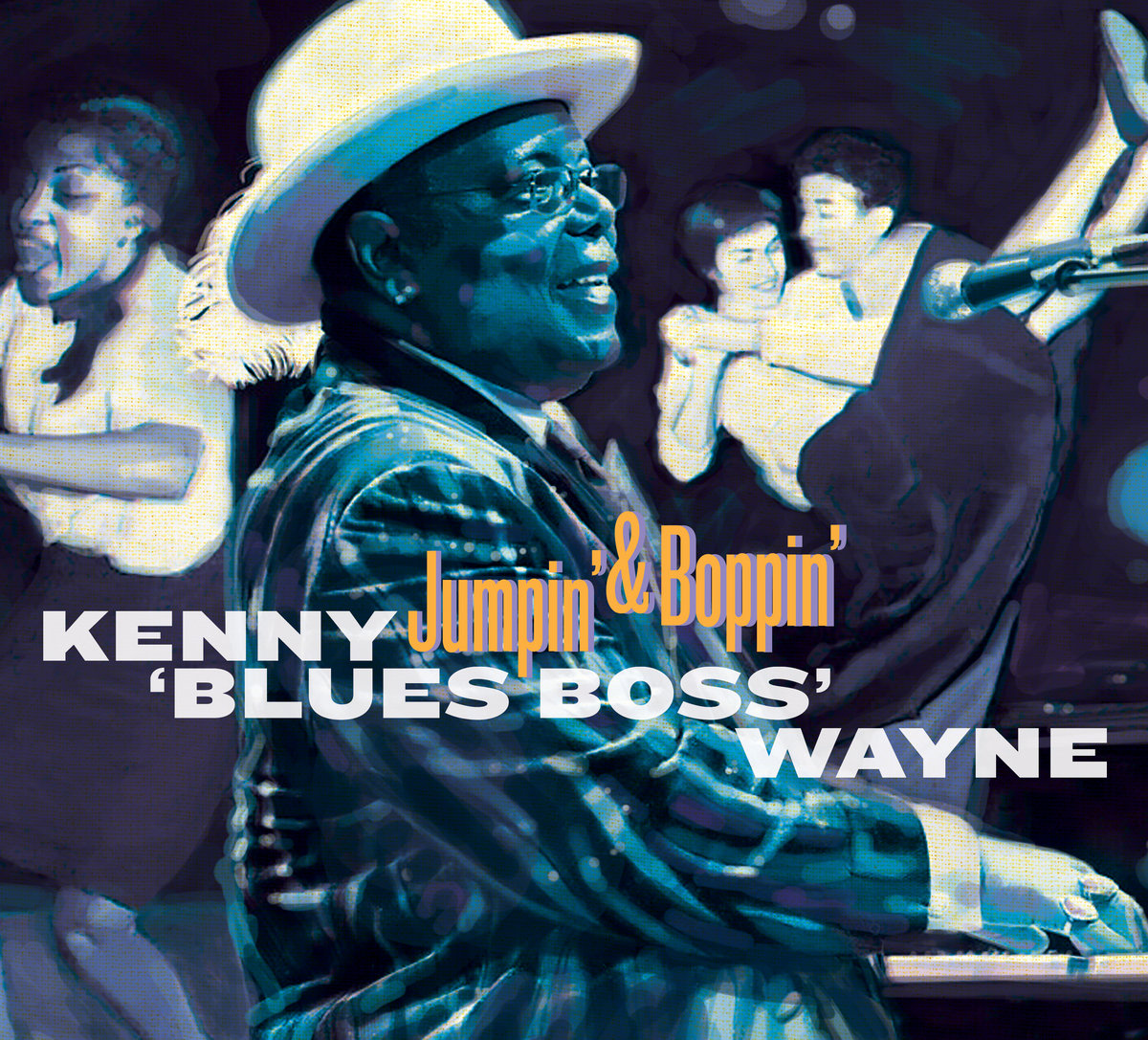 2016 "Jumpin' & Boppin" featuring Duke Robillard
Front Cover 2016
1. Blues Boss Shuffle
2. Bankrupt Blues
3. Jumpin' & Boppin'
4. Blues Stew
5. You Don't Know Me
6. Blackmail Blues
7. Look Out! There's a train comin'
8. I Need Your Lovin'
9. Ciao, Ciao Baby
10. Back To Square One
11. I'm Comin' Home
12. Rock, Rock Little Girl
13. Boogie To Gloryland
Jumpin' & Boppin', vocalist and keyboardist Kenny "Blues Boss" Wayne's third recording for Stony Plain, pays homage to the late 1940s / early 1950s originators of rhythm and blues, including Louis Jordan, Amos Milburn, Ray Charles, Johnnie Johnson and Fats Domino, which, of course, means that this is good-time music. Twelve of the tracks are
Front Cover 2016
Wayne's original compositions, and they testify to how adept he has become in the jump blues idiom, sounding like they would be right at home on a juke box during the early days of R&B. He serves up one cover, the Ray Charles–associated You Don't Know Me (written by Cindy Walker and Eddy Arnold).
Along with Wayne's outstanding piano work and good-humored, soulful vocals, the sessions benefit from first-rate contributions from the rhythm section that consists of bassist Russell Jackson, drummer Joey DiMarco and guitarist Charlie Jacobson. Guitarist Duke Robillard and tenor/baritone saxophonist Dave Babcock both know what it takes topropel this music, and their solos really stoke the fire. This is apparent on the opening instrumental, Blues Boss Shuffle, which features smoking piano, tenor and guitar solos, and from that pointon, there is no looking back. Blackmail Blues is a standout with the rhythm section laying down a hip, strutting groove marked by Wayne's churchy organ fills. On the up-tempo Rock, Rock Little Girl, Wayne evokes Little Richard and Jerry Lee Lewis as he frantically pounds the 88s. Sherman Doucette's riffing harmonica and blues-smeared solos drive the relentless boogie groove on I'm Coming Home. The slow blues Back to Square One evokes the legendary Charles Brown, featuring funky, double-tracked piano/organ interplay and a tasty solo from Robillard. The set closes with the ebullient boogie-woogie piano/bass/drums instrumental Boogie to Gloryland, providing Wayne with a showcase for his formidable chops. Anyone looking for a soundtrack to keep a party rocking should just slip this disc in and let it play. It is guaranteed to get the house Jumpin' & Boppin'.—Robert H. Cataliotti/Living Blues Magazine
---------------------------------------------------------------
Kenny "Blues Boss" Wayne (born Kenneth Wayne Spruell, November 13, 1944) is an American blues, boogie-woogie and jazz pianist, singer and songwriter. Music journalist, Jeff Johnson, writing in the Chicago Sun-Times stated, "There's no boogie-woogie-blues piano man out there today who pounds the 88's with the conviction of Kenny "Blues Boss" Wayne."
Wayne was born in 1944 in Spokane, Washington, but he relocated with his family to San Francisco, California at an early age. His parents alternatively advised for and against the blues, but his mother's influence led Wayne to be influenced early by Nat King Cole, Little Willie John, and Fats Domino.The family moved in turn to New Orleans, Los Angeles and Compton, California. While he was growing up, Wayne drew further inspiration from The Three Sounds, George Shearing, Erroll Garner, Cal Tjader, Mongo Santamaría, Ray Charles, Charles Brown, Floyd Dixon, Big Joe Turner, and Jimmy Reed.
Based in Los Angeles during the 1960s and 1970s, Wayne was utilised as a sideman by various pop and rock musicians. In the 1980s Wayne relocated again to Vancouver, British Columbia. "Blues Boss" (his nickname was acquired from the title of Amos Milburn's comeback album with Motown Records) undertook a tour of Europe in 1994.Wayne dedicated his debut album to his parents, and 2002 heralded the issue of 88th & Jump Street, followed by Blues Carry Me Home (2003) and Let It Loose (2005).
His festival appearances have included Edmonton's Labatt Blues Festival (2004), Koktebel Jazz Festival (2006) and Southside Shuffle in Port Credit, Ontario (2015).
In May 2008, Wayne issued his album, Can't Stop Now. Wayne's recent release, Rollin' with the Blues Boss (2014), included guest contributions from Diunna Greenleaf and Eric Bibb.Wayne's 2016 release, Jumpin' & Boppin' featured guitarist Duke Robillard.